See Tour Info
The Wilson Group
Postal Address: P. O. Box 109 MARIETTA, GA 30061
Quotes and Facts from the Book.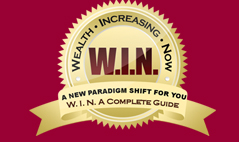 Action Influence allows you to really see all of the benefits of saving money. By observing patterns in your own life when it comes to handling money, your financial decisions are sharper.
This is how you are going to define your own purpose to financial security. Financial security is an admirable goal, the Action Influence that you take makes it achievable.
"Controlling your savings and investing creates the environment that your spending is choked off. - Rob Wilson"
Determine the financial impact of all decisions made. Focus on providing a way of life for you and your family first.
"It doesn't matter how you start, it matters how you end! You either live by default or design!" -Bishop Dale C. Bronner
Research has shown that it is rarely luck, inheritance, advanced degrees or even intelligence that enables people to build wealth. It is more often hard work, thorough planning, persistence, and most of all self-discipline that gets the job done.